Greeting
Welcome to Amarume Kogeisha's website.
We're located at Shonai region of Yamagata prefecture, in the north-east of Japan. Surrounded by the scenery of the Japanese country side, such as rice fields and the mountains, we proudly create our products.
In 1948, my grandfather, Saburo Saito, started a small business by himself. The business has grown and now we're a team of 34.
We make and repair the metal decoration parts for traditional Japanese style architectures such as Buddhist temples, Shinto shrines, and the ordinary residencies, etc.We welcome orders from abroad as well.  Please feel free to talk to us for your dream home and office!
The tradition of ornamental hardware has continued for hundreds of years in Japan. Although feeling the responsibility of passing the baton from one era to the next, I believe that the tradition is not simply a matter of passing on, but rather a matter of repeating technical innovations that have survived through the ages. There should be modern patterns and techniques for the modern age. While respecting tradition, we will create new techniques and products, and continue to be the creative decorators and master craftsmen of the new era.
I'm happy to share the beauty and the joy of the traditional Japanese crafts with the world. Please follow my Instagram(@amarume_kogeisha), and there you can see inside our workshops and some of our works.
Haruki Saito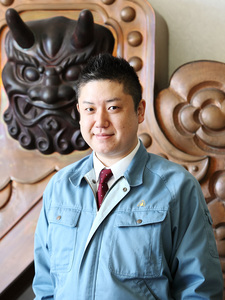 President & CEO